Smetana Luxury Pension, Svitavy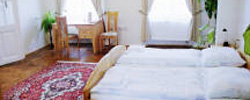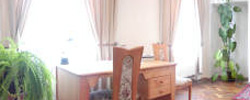 Should you wish to feel like a V.I.P. that this Smetana Luxury Pension built in a Pseudo Art Nouveau style, located in a peaceful villa area close to the historical centre of Svitavy could be just a perfect match. Thanks to its superb location, family atmosphere and a smaller size it gives you a feeling of being a star surrounded by a comfort, personal care and privacy.
The Smetana Luxury Pension offers accommodation in four spacious apartments. Each apartment has got an individual stylish interior design, carefully selected and made from high quality materials. All apartments are en-suite. They consist of 2 or 3 rooms, further equipped with a floor-heating, a satellite TV, a radio, a direct dialling phone, a hair-dryer, a massage shower, and special beds for calm and healthy sleep. One room of each suite is adapted for business meetings. There is a socket for the Internet access and an inkjet printer.
The Smetana Luxury Pension's restaurant serves rich breakfast as well as a wide selection of dishes from its main menu.
The Smetana Luxury Pension guests can enjoy their afternoon siesta or pleasant summer evenings at the pension's garden "Clover Leaf" resting area with a barbeque fire-place. Should you have any gourmet wish, it can be satisfied upon your request.
And one more special service that can make your stay even more unique: the Smetana Luxury Pension with a co-operation of a hunting office offers an opportunity to enjoy some excellent hunting. The Smetana Luxury Pension takes care of all documentation required for a Czech hunting license and, according to your wishes it can arrange necessary equipment and get you an accompanying translator in order to meet your expectations in full. If wished, skinning and the preparation of a high-quality trophy mount following your successful hunt can be arranged. On offer there is a roe-deer, a buck, a mouflon, a stag, a black and wild turkey, a pheasant, and a duck. A professional hunting guide takes care of you and/or your group for the whole event. The service is available both individuals as well as groups.
Your car can be parked within the Smetana Luxury Pension secure parking area.
The Smetana Luxury Pension accepts all major credit cards, Euro Cheques and travellers' cheques. The guests can use the pension's exchange office as well.

Price list
All Year Season
1 APARTMENT
(sleeps 2)
Smetana Festival
950 CZK (approx. 33 EUR)
Extra Bed
-
| | |
| --- | --- |
| • | Prices are quoted in CZK. |
| • | Prices are quoted per person per night including breakfast. |
| • | Customers must provide a valid credit card number for a booking guarantee. |
| • | Any booking is subject to our Booking Terms. |
Cancellation Policy
| | |
| --- | --- |
| • | If cancelled more than 21 days prior to arrival NO charge. |
| • | If cancelled 21 to 14 days prior to arrival 50% charge. |
| • | If cancelled 14 to 7 days prior to arrival 70% charge. |
| • | If cancelled less than 7 days prior to arrival 100% charge. |
| • | Cancellation and any changes in customer's order need to be done in written. |
Should you wish to stay at the Smetana Luxury Pension in Svitavy, please submit your order to helpdesk@smetanaoperafestival.com. Transfer to/from Litomysl to be arranged upon request.