Smetans's Litomysl Travel by Bus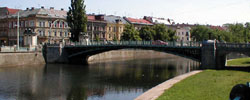 If you start your journey in Prague, your departure point would be a bus station "Florenc" (also a subway station, yellow line B). Yet not very modern (a reconstruction is coming soon) but still the centre of bus connections.
Buses in the Czech Republic run in time according to the valid timetables. You can find entire information in English or German about any connection within the Czech Republic on the following site for public transportation www.idos.cz. The quality of Czech buses is generally good. Nevertheless as there is a number of private companies running various connections, there are air-conditioned coaches as well as standard buses. We recommend checking beforehand. There are regular breaks on long drive distances.
Traveing by bus in the Czech Republic is economic, safe, on air-conditioned coach very comfortable. It gives you an opportunity to see more out of the country.
When travelling from Prague to Litomysl by bus, search for the connection:
Prague - via Hradec Kralove - Litomysl on the above mentioned site. Duration approx. 3 hours. Cost approx. 180 CZK (6 EUR).