Tourist Attractions in Litomysl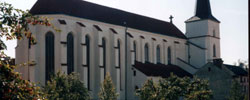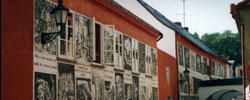 Litomysl has got many tourist attractions worthy to see. Being a historical town, Litomysl can boast of sights that reflect true history. As a matter of fact, there is also a private Institute of restoration and conservation techniques and many experts came from the Litomysl's restoration school.
Among places of your interest we recommend to take a tour which is in fact a nice walk around the Smetana Square then visit the Piairst Church of the Discovery of the Holy Gross and the Monastery, the Church of the Raising of th Holy Gross and Presbytery, or newly renovated Convent Gardens. Of course, you should not miss a tour at the Litomysl Castle.
Attractions of somewhat younger age include Portmoneum, the Smetana Hall, or the Community Hall. Portmoneum is a museum of Jan Vachal and its beginning dates back to 1920 and has got an interesting story. The retired office worker, amateur printer and lover of art Josef Portman invited to Litomysl his friend the painter, graphic artist and writer Josef Vachal, and asked him to decorate the ceilings and walls of two rooms in his house. Josef Vachal, an idiosyncratic and unique artist, whose life work had gone largely unrecognised, was especially talented as an illustrator and creator of beautiful books, which he considered to be original artistic artefacts. The Portmoneum is a gallery of ORBIS PICTUS of Vachal's spiritual life and artistic opinions. The idea behind the Smetana Hall was to build a theatre for professional theatre companies. The Smetana Hall is a masterpiece of neo-gothic architecture with art nouveau elements. The magnificent exterior is reflected by the rich interior décor to be found at the auditorium and other areas as well as the painted curtain. The Smetana Hall was officially opened on 11th June 1905 with its first performance of Bedrich Smetana's Dalibor, performed by local artists - the only professional among them played the title role. The Community Hall was built in 1922 as a place where various cultural and social events could be held. The building is in neo-renaissance style with art nouveau and modern elements; the portal and hall are decorated with stucco work.