Litomysl History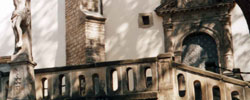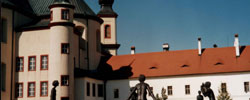 The East Bohemian town of Litomysl emerged in the 13th century on the site of an older fortified settlement on the Trstenice path which was an important trading route linking Bohemia and Moravia. Litomysl's population is about 10,000 inhabitans today.
The dominant feature of Litomysl is the monumental Renaissance castle dating from the years 1568 - 1581. The buildings of the castle precincts are not only exceptional for their architectural refinement, but have also inscribed themselves in history as the birthplace one of the great Czech national composers, Bedrich Smetana. On the Litomysl's elongated square, which is one of the largest in the Czech Republic, stands a town hall of Gothic origin and a series of Renaissance and baroque houses, many with arcades and vaulted groundfloor rooms. One of the most important of these is the House At the Knights (U Rytiru) with its remarkable facade. In the past Litomysl was also a significant religious centre; it was in Litomysl in 1344 where the second Bishopric established in Bohemia, was founded.
Litomysl has got cultural traditions of long standing that go much beyond regional and national frontiers. The exquisite interiors of the castle, especially the unique baroque castle theatre, or the amphitheatre in the castle park and Smetana's house often serve for various music or theatre venues which influence the life of the town throughout the year. Litomysl came to public notice in a political context as well: in 1994 the meeting of the seven Central European countires' presidents took place at the Litomysl castle, and in 1995 the Spanish Royal couple Juan Carlos with his wife queen Sophia visited the town. The chateau complex was included in the UNESCO List of cultural monuments in 1999. Litomysl was awarded the title "Historical Town of the year 2000". More details about the history of Litomysl to be found here.