Smetans's Litomysl Travel by Car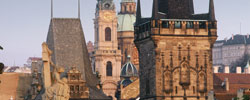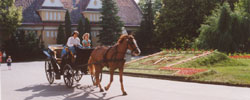 The Czech Republic is situated right in the heart of Europe. It is an important transit country between Western and Eastern Europe. There is a network of highways and thousands kms of the first class roads with a great number of petrol stations across the Czech Republic. Though due to the increasing number of cars and trucks they get easily crowded (especially highways), and can slow you down. Also you have to be careful: some Czech drivers are not disciplined and speeding is the easiest way to show it up to the whole world.
The main highways:
Prague - Brno (D1, South Moravia) - Olomouc - Hranice (D1, Central and North Moravia)
Prague - Pilsen (D5, West Bohemia)
Prague - Hradec Kralove (D11, Central and East Bohemia)
Prague - Litomerice (D8, North Bohemia)
If driving on the highway, you have to purchase a highway stamp. There are several kinds of the highway stamp according to the car type as well as time validity. You can buy it on borders or at any post office.
Roads are well signed, although a road map of the Czech Republic is recommended, especially when driving on state roads or going to smaller towns and villages, or mountains. Litomysl is situated in Eastern Bohemia on a route E442 between Hradec Kralove - Olomouc, about 150 kms away from Prague, 85 kms away from Brno and 50 kms away from Hradec Kralove.
When traveling by car from Prague to Litomysl, take the following direction:
Prague - Podebrady - Hradec Kralove (D11 highway) - Vysoke Myto - Litomysl (E442 state road). Duration approx. 2.5 hours.