Smetana's Litomysl Festival Participants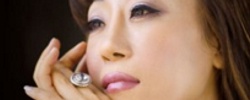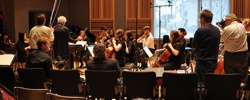 Dagmar Peckova
Dagmar Peckova is one of the most requested renowned mezzo-sopranos. Following two years of work at Dresden's Opera Studio, she was engaged in 1987 as a soloist by the Semper Opera in the same city. A year after, Dagmar Peckova became a soloist at the Berlin Staatsoper. Dagmar Peckova is currently a guest soloist at many European leading opera houses such as those of Stuttgart, Berlin, Basel, Paris, London, Prague. On these stages Dagmar Peckova has created a gallery of major parts of the world opera literature (Carmen, Cherubino, Rosina ad.). As a concert singer Dagmar Peckova demonstrates her art in a broad repertoire ranging from classical music to works by major contemporary composers. Her British debut recital at Wigmor Hall (1995) was well received, critics there hailing her as a true Mahlerian. Dagmar Peckova is a frequent guest of the Czech Philharmonic, she has accompanied the orchestra on its tours in Japan, South Korea and Hong-Kong with a conductor Jiri Belohlavek as well as on an English tour under the baton of Libor Pesek.
Source: MusicaBona. Edited.
Sumi Jo
Sumi Jo is a Grammy award winning South Korean lyric coloratura soprano known for her interpretations of the bel canto repertoire. In 1986, Sumi Jo made her European operatic debut as Gilda in Giuseppe Verdi's Rigoletto at the Teatro Comunale Giuseppe Verdi in Trieste. This debut performance attracted the attention of Herbert von Karajan, who proceeded to cast her as Oscar in Un ballo in maschera opposite Plácido Domingo at the Salzburg Festival in 1987. Praised for the remarkable agility, precision and warmth of her voice, Sumi Jo has established herself as one of her generation's most sought-after sopranos. Sumi Jo has been constantly greeted with exceptional accolades, by public and press alike, for her performances in the most important opera houses and concert halls worldwide.
Source: Wikipedia. Sumi Jo official website. Edited.
NEC Youth Philharmonic Orchestra Boston
Founded in 1962, the Youth Philharmonic Orchestra (YPO) is the premier orchestra at the New England Conservatory Preparatory School. The YPO is under the dynamic leadership of Music Director and Conductor Benjamin Zander, and comprised of accomplished young musicians between the ages of 12 and 18 who are selected annually from over 400 applicants. Fifteen international concert tours have enriched audiences on four continents and established YPO as one of the finest youth orchestras in the world. Benjamin Zander has led YPO in concerts at some of the finest concert halls of the world. The one-hour documentary film, A New World of Music, produced by Concert Productions, Inc. from the 1995 tour of Chile and Argentina, was nominated for an Emmy Award and has aired nationally on public television. The CD recordings of YPO have received acclaim from Classic FM Magazine, Fanfare Magazine and the American Record Guide in which the playing of the Dvorak New World Symphony was lauded as "unbelievable in its conviction and communication."
Source: NEC YPO official website. Edited.
Please meet other artists and ensembles participating in Smetana's Litomysl International Open-air Opera Festival 2011:

Pavel Cerny - organ, Jana Sykorova - mezzosoprano, Eva Bublova - organ, Roman Janal - barytone, Peter Mikulas - bass, Jitka Hosprova - viola



Octopus Pragensis
Prague Philharmonic Choir
Prague Radio Symphony Orchestra
Chamber Philharmonic Orchestra Pardubice
Vychodoceske divadlo Pardubice
Smetana's Litomysl Festival Participants 2010
Smetana's Litomysl Festival Participants 2009
Smetana's Litomysl Festival Participants 2008
Smetana's Litomysl Festival Participants 2007
Smetana's Litomysl Festival Participants 2006
Smetana's Litomysl Festival Participants 2005
Smetana's Litomysl Festival Participants 2004