Smetana's Litomysl Festival Participants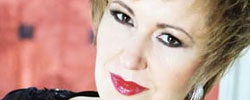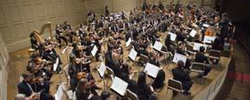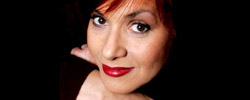 Eva Urbanova
Eva Urbanova belongs today among the top world's opera singers. She embarked on the career of a pop singer, failed to be admitted to the Prague Conservatory, and began to study the voice with Prof. Ludmila Kotnauerova in Pilsen. Since making her debut in 1987 at the National Theatre in Prague (as Milada in Smetana's "Dalibor"), the singer's star has steadily risen. There in 1995 with a great success, Eva Urbanova created a role of Libuse in Bedrich Smetana's opera and from that time she is the only person of Libuse on the stage of the National Theatre. In 1997 she made her debut in La Scala, Milano, where her partner was Jose Cura. In the same year she had a big success with Kostelnicka from Janacek's opera "Jenufa" in the National Theatre. In 1998 made her debut in Metropolitan Opera, New York, under James Levine. She has also appeared on the prestigious stages of Covent Garden, Deutsche Oper Berlin, and the Paris Opera.
Source: MusicaBona. Edited.
Boston Youth Symphony Orchestra (USA)
Founded in 1958 at Boston University, the Boston Youth Symphony Orchestras became one of the finest youth orchestras in the United States. The Boston Youth Symphony Orchestras is an organization comprising four orchestras (Boston Youth Symphony, Repertory Orchestra, Junior Repertory Orchestra, Young People's String Orchestra), a chamber music program, and a community program. Members include student musicians of elementary and secondary school age. Under the leadership of Mr. Federico Cortese who assumed the post of music director in 1999 and is the conductor of the Boston Youth Symphony Orchestra, the whole organization has grown in terms of programmatic scope, growth and performance excellence. The full symphony orchestra regularly performs in Boston area concert halls and tours internationally every two years. In 2008 the Boston Youth Symphony Orchestra celebrates its 50th anniversary.
Source: Boston Youth Symphony Orchestra official website, Wikipedia. Edited.
Dagmar Peckova
Dagmar Peckova is one of the most requested renowned mezzo-sopranos. Following two years of work at Dresden's Opera Studio, she was engaged in 1987 as a soloist by the Semper Opera in the same city. A year after, she became a soloist at the Berlin Staatsoper. Dagmar Peckova is currently a guest soloist at many European leading opera houses such as those of Stuttgart, Berlin, Basel, Paris, London, Prague. On these stages Dagmar Peckova has created a gallery of major parts of the world opera literature (Carmen, Cherubino, Rosina ad.). As a concert singer she demonstrates her art in a broad repertoire ranging from classical music to works by major contemporary composers. Her British debut recital at Wigmor Hall (1995) was well received, critics there hailing her as a true Mahlerian. A frequent guest of the Czech Philharmonic, she has accompanied the orchestra on its tours in Japan, South Korea and Hong-Kong with a conductor Jiri Belohlavek as well as on an English tour under the baton of Libor Pesek.
Source: MusicaBona. Edited.
Among other soloists there are following artists participating in Smetana's Litomysl International Open-air Opera Festival 2008:
Leos Cepicky (violin), Ales Barta (organ), Smetana's Trio, Fazil Say (piano; Turkey), Edita Adlerova (mezzo-soprano), Tomas Thon (organ), Adriana Kohutkova (soprano), Tomas Cerny (tenor), Peter Mikulas (bass), Jitka Cechova (piano), Stepan Rak (guitar), Gabriela Benackova (soprano), Ivan Kusnjer (baritone), Elenore Marguerre (soprano), Arpiné Rahdjian (sorpano), Zoryana Kushpler (mezzo-soprano),


Gyosan-ry Tendai Shomyo (Japan)

Smetana's Litomysl Festival Participants 2007
Smetana's Litomysl Festival Participants 2006
Smetana's Litomysl Festival Participants 2005
Smetana's Litomysl Festival Participants 2004