Smetana's Litomysl Festival Participants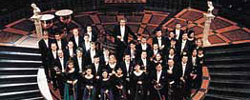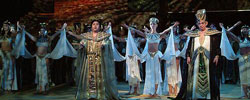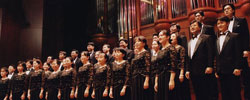 Gabriela Benackova (*1947)
The soprano Gabriela Benackova was born in Bratislava, Czechoslovakia. Since 1978 she has appeared at the Vienna State Opera and the Metropolitan Opera in New York. Earlier in her career she sang most of the main roles of the Czech operatic repertoire (Smetana, Dvorak, Janacek), the Russian (Tchaikovsky, Prokofjev) and the Italian repertoire (Puccini) at the National Theatre in Prague, where she returned again in 1983 after the completion of the reconstruction of the historic building, to sing the title role in Smetana's "Libuse". She has continued her successes at Covent Garden in London, in Zurich, Cologne, Stuttgart and Salzburg in Czech, Russian, Italian and French operatic roles. She has also continued her career as a concert artist in works by Dvorak, Janacek and Mahler, and has taken part in a number of operatic recordings, including most recently Janacek's "Kata Kabanova", the title role of which she has also sung at the Metropolitan Opera, New York. She is one of the leading personalities of the foundation which has been carrying out restoration work on Gustav Mahler's birthplace at Kaliste in the Czech Republic. Discography
Peter Dvorsky (*1951)
The Slovak tenor Peter Dvorsky was born in Partizanske, Czechoslovakia. In 1972 he made his debut in Bratislava as Lenski (Eugene Onegin) and was acclaimed as one of the most beautiful tenor voices of the last generations. In 1976 he made his debut at the theatre to which he stayed particularly attached, the Staatsoper, Vienna, as the singer (Der Rosenkavalier), in 1978 he sang Edgardo (Lucia di Lammermoor), in 1982 Malcolm (Macbeth), Des Grieux (Manon Lescaut), the Prince (Rusalka), Don Alvaro (La Forza del destino) and others. Again, in 1978, debut as the Duke of Mantua (Rigoletto) at Covent Garden where he returned regularly. In 1979 he appeared for the first time at the venerable La Scala and sang Rodolfo (Boheme) and later Edgardo (Lucia di Lammermoor), Malcolm (Macbeth), Pinkerton (Madama Butterfly, refer also to the Opera of the Month - June 2002) and Maurizio (Adriana Lecouvreur). In the same year he graced the grandiose Roman Anfiteatro Arena of Verona to sing Alfredo (Traviata) and the same role at Hamburg, Germany. In 1998-99, after more than two and half years absence, he resumed his career and returned to his home company, Slovak Opera. He took on major tenor characters in three operas: Puccini's Tosca as Cavaradossi, Mascagni's Cavalleria as Turridu and Leoncavallo's Pagliacci as Canio. In the roles of Turridu and Canio it was Dvorsky's debut. Peter Dvorsky appeared at most major opera theatres of the world, singing regularly at the Metropolitan, New York, at San Francisco, Houston, Geneva and Tokio.
Source: Dr. Joseph Fragala, PhD at www.grandi-tenori.com
Stefan Margita (*1956)
The Slovak tenor Stefan Margita was born in Kosice in what is now Slovakia, Czech tenor Stefan Margita was invited to sing at Vienna Volksoper early in his career after winning several voice competitions. His international career developed quickly. He sang 'Kudrjash' ("Katia Kabanova") in Geneva, Dallas, Paris and Tel Aviv, 'Jacquino' ("Fidelio"), 'Narraboth' ("Salome"), 'Nemorino' ("L'Elisir d'Amore") and 'Alfredo' ("La Traviata") in Basel. His most important part is actually 'Laca' ("Jenufa"), which he sang highly acclaimed at the Maggio Musicale Fiorentino, in Tel Aviv, Prague, Berlin Deutsche Staatsoper, Ličge, Montpellier, Gent, Antwerp as well as at the Glyndebourne Festival, at the Japanese Saito Kinen Festival conducted by Seiji Ozawa and - with huge success - in Berlin in November 2002. As a concert singer he has performed in Beethoven's Ninth Symphony, Mahler's "Das klagende Lied," Liszt's Faust Symphonie, Kodály's "Psalmus Huncaricus," and Mozart's "Requiem" in Berlin, Hamburg, Frankfurt, Milano, Torino, Prague, at the Edinburgh Festival, in Paris, Vienna, in Japan. Stefan Margita's discography includes Janacek's "Osud" with Gerd Albrecht, Martinu's "Gylgamesh Epos", and Myslivecek's "Il Bellerofonte".
Source: Biography supplied by the artist. Editted.
Taipei Philharmonic Chamber Choir, Taiwan
The Taipei Philharmonic Chorus was founded in 1972 and, through the efforts of its conductors, has established an extensive repertoire and a reputation as one of the most prestigious choruses in Taiwan. Members of the chorus are music lovers from all walks of life. Their love of music, combined with the vision of the conductors, has allowed the Taipei Philharmonic Chorus to greatly increase the number of performances it gives each year. From the 140-voice chorus, a smaller 40-voice choir is selected to tour and to perform more select musical works. This group, known as the "Taipei Philharmonic Chamber Choir", has an impressive history of overseas performances. It not only participates in various International Choral Festivals and annually goes abroad for a tour of concerts but also is active at home, co-operating with the government's "Community Development Scheme" by giving highly appreciated concerts in the cultural centers of small, local towns and villages.
The "Image China" album awarded the 8th Golden Melody Award for the "Best Performance", "Best Record Producing", and "Best Classical Record" categories. The "Maiden of Malan" album awarded the 9th Golden Melody Award for the "Best Composer". The "Snows in June" album was nominated the 11th Golden Melody Award for the "Best Composer" and "Best Classical Record". The "I Am Flying" album was nominated the 12th Golden Melody Award for the "Best Composer", "Best Record Producing" and "Best Classical Record ". The latest "Buddhist Requiem" album awarded the 13th Golden Melody Award for the "Best Composer" and "Best Religious Music".
Source: www.tpf.org.tw