Smetana's Litomysl Festival Venue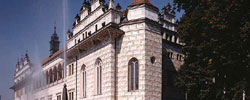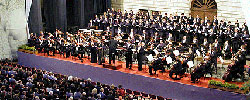 Author: František Renza, © Smetanova Litomysl, o.p.s.
Smetana's Litomysl International Opera Festival takes place at a unique Renaissance Litomysl castle. It was on March 2, 1824 when one of the greatest composers of the 19th century and creator of modern Czech classical and opera music, Bedrich Smetana was born in the neighbouring brewery.
Litomysl Castle was originally a Renaissance arcade-castle of the type first developed in Italy and then adopted and greatly developed in central Europe in the 16th century. Its design and decoration are particularly fine, including the later High-Baroque features added in the 18th century. It preserves intact the range of ancillary buildings associated with an aristocratic residence of this type. Litomysl Castle is one of the Czech national cultural landmark that was registered on UNESCO World Heritage List in 1999.
Smetana's Litomysl concerts are performed at the 2nd Castle Courtyard with retractable roofing (1,255 seats), the Castle Amphitheatre (2,250 seats), the Castle Small Baroque Theatre (133 seats), the Castle Audience Hall (168 seats), the Church of the Raising of the Holly Cross (480 seats) and Smetana's House (485 seats).
Some 14,000 visitors attend this unique open-air musical celebration every year due to charming atmosphere of the venue's natural environment.