Smetana's Litomysl Festival Participants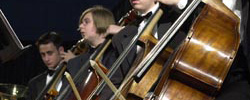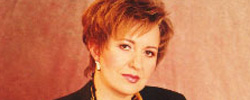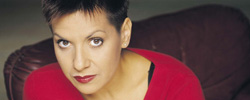 Eva Urbanova
Eva Urbanova belongs today among the top world's opera singers. She embarked on the career of a pop singer, failed to be admitted to the Prague Conservatory, and began to study the voice with Prof. Ludmila Kotnauerova in Pilsen. Since making her debut in 1987 at the National Theatre in Prague (as Milada in Smetana's "Dalibor"), the singer's star has steadily risen. There in 1995 with a great success, Eva Urbanova created a role of Libuse in Bedrich Smetana's opera and from that time she is the only person of Libuse on the stage of the National Theatre. In 1997 she made her debut in La Scala, Milano, where her partner was Jose Cura. In the same year she had a big success with Kostelnicka from Janacek's opera "Jenufa" in the National Theatre. In 1998 made her debut in Metropolitan Opera, New York, under James Levine. She has also appeared on the prestigious stages of Covent Garden, Deutsche Oper Berlin, and the Paris Opera.
Source: www.musicabona.com. Edited.
Dagmar Peckova (*1961)
Dagmar Peckova is a renowned opera and concert singer. Following two years of work at Dresden's Opera Studio, she was engaged in 1987 as a soloist by the Semper Opera in the same city. A year after, she became a soloist at the Berlin Staatsoper. Dagmar Peckova is currently a guest soloist at many European leading opera houses such as those of Stuttgart, Berlin, Basel, Paris, London, Prague. On these stages Dagmar Peckova has created a gallery of major parts of the world opera literature (Carmen, Cherubino, Rosina ad.). As a concert singer she demonstrates her art in a broad repertoire ranging from classical music to works by major contemporary composers. Her British debut recital at Wigmor Hall (1995) was well received, critics there hailing her as a true Mahlerian. A frequent guest of the Czech Philharmonic, she has accompanied the orchestra on its tours in Japan, South Korea and Hong-Kong with a conductor Jiri Belohlavek as well as on an English tour under the baton of Libor Pesek.
Source: www.musicabona.com. Edited.
Herbert Lippert
Herbert Lippert belongs to the world's leading tenors of our time. Especially with the Mozartian repertory Herbert Lippert made himself known at the Wiener Staatsoper, Bayerische Staatsoper München, Royal Opera House Covent Garden, Teatro alla Scala Milano, Teatro Colon Buenos Aires and the Salzburger Festspiele. Herbert Lippert was soloist at the Vienna Boys Choir. He studied at the Academy of Music in Vienna and finished with distinction. After that he was member of the opera studio of the Wiener Staatsoper, followed by an engagement as lyric tenor in Lübeck. From 1990-94 he was member of the Wiener Staatsoper. Herbert Lippert was highly regarded by the legendary Sir Georg Solti with whom he recorded several CD's: The Creation, Don Giovanni and Die Meistersinger von Nürnberg, for which Herbert Lippert received the Grammy Award in 1997.
Source: www.herbertlippert.com. Edited.
Pittsburgh Youth Symphony Orchestra (USA)
The Pittsburgh Youth Symphony Orchestra is nationally recognized as one of the top youth orchestras in the United States. It is comprised of approximately 100 young musicians up to and including college age, selected by way of competitive auditions. The Pittsburgh Youth Symphony Orchestra was founded in 1946 for the purpose of providing educational opportunities and the finest orchestral training for young musicians in the Pittsburgh metropolitan area. The Pittsburgh Youth Symphony Orchestra has enjoyed an affiliation with the Pittsburgh Symphony Orchestra since 1962 and rehearses each week from September until May at its home - Heinz Hall. The Pittsburgh Youth Symphony Orchestra presents concerts at Heinz Hall, Soldiers and Sailors Memorial Hall, Carnegie Music Hall and various outreach locations. The Pittsburgh Youth Symphony Orchestra has won awards in national and international competition and most recently was selected as one of the top six youth orchestras in the United States to participate in the 2002 National Youth Orchestra Festival. The Pittsburgh Youth Symphony Orchestra is directed by Daniel Meyer who is Assistant Conductor of the Pittsburgh Symphony Orchestra as well.
Source: www.pittsburghyouthsymphony.org. Edited.
Pavel Sporcl (*1973)
Pavel Sporcl ranks among the foremost representatives of today's young generation of violinists. He has won many major awards, including first price in the Prague Spring International Competition (1997), Bohuslav Martinu Society Prize (1996), victory in the Holland Music Sessions World Tour Competition (1993), which was followed by a world tour (Amsterdam, New York, Los Angeles); and laureateship of the ARD Munich Contest (1992). In the Czech Republic, Pavel Sporcl regularly appears at the most prestigious venues such as Prague's Dvorak and Smetana Halls in particular, and music festivals including The Prague Spring, Janacek May, Mitte Europa, Concentus Moraviae, and Moravian Autumn. Pavel Sporcl has worked with a number of outstanding soloists, including Josef Suk and Patrick Gallois. Pavel Sporcl is a dedicated performer of twentieth-century music that includes works by Sylvie Bodorov, Arvo Pärt, Alfred Schnittke and John Corigliano.
Source: www.sporcl.cz. Edited.
Among other soloists there are following artists participating in Smetana's Litomysl International Open-air Opera Festival 2005: Anneely Peebo (mezzo-soprano), Ales Barta (organ), Bohuslav Matousek (violin), Monika Knoblochova (cembalo), Jozef Skrzek (piano, keyboards, vocal), Katerina Englichova (harp), Ivan Kusnjer (baritone), Simona Saturova (soprano), Karla Bytnarova (mezzo-soprano).
Moravian Philarmonic Orchestra

Smetana's Litomysl Festival Participants 2004